The Courage to Rise: Using Movement, Mindfulness, and Healing Foods to Triumph over Trauma (Paperback)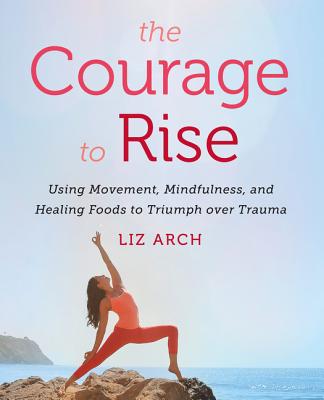 $25.99
Email or call for price.
Description
---
A prescriptive and transformative plan to use yoga to heal pain, anxiety, depression, and other manifestations of unresolved trauma, by an internationally acclaimed yoga teacher.
Whether or not we're consciously aware of it, no one is spared from trauma. From catastrophic events to everyday experiences of traumatic stress, acclaimed yoga teacher Liz Arch is willing to bet that trauma has touched you or someone you love and may be affecting your physical, emotional, and mental health in surprising and devastating ways, causing symptoms such as anxiety, panic, depression, mood swings, fatigue, chronic pain, and digestive issues.
Following her own traumatic experience with domestic violence and an ensuing struggle with anxiety and panic attacks, Liz found her own path to holistic healing and became an advocate for those who have suffered from trauma. In The Courage to Rise, Liz shows how trauma changes your brain and inhabits your body, creating a vicious cycle of physical and psychological distress. She offers an integrated approach to take control of your own healing and reclaim your wholeness through movement, mindfulness, and nutrition.
This hopeful and sensible guide for healing unresolved manifestations of trauma naturally, addresses the three areas where trauma lives:
1) The body. Move stuck emotions out of your muscles and tissues through twelve signature Primal Yoga movement sequences.
2) The brain. A series of meditations and mindfulness practices to rewire your brain and break free from repetitive thought patterns, overwhelming feelings, and painful memories.
3) The gut. Examine foods that may be exacerbating physical and mental dis-ease like caffeine, sugar, alcohol, and gluten; discover the best whole foods to stave off depression and anxiety; learn about mood-boosting supplements for brain and gut health; plus thirty delicious and nutritious recipes.
The Courage to

Rise
gives invaluable insight into understanding the nature of trauma and shares practical and effective tools you can immediately implement to begin regulating your nervous system, strengthening your emotional resiliency, and transforming pain into your greatest power.
About the Author
---
Liz Arch is an acclaimed yoga teacher, martial artist, and the creator of Primal Yoga, a dynamic fusion of yoga and martial arts focused on empowerment and self-healing. She is a certified Domestic Violence Counselor Advocate and currently serves as the West Coast director of the nonprofit organization Purple Dot Yoga Project, which uses yoga as a healing tool to help individuals overcome the trauma of domestic violence.
Liz has a diverse background in several different martial arts styles including traditional Northern-style Kung Fu, Yang-style Tai Chi, Self-Healing Qigong, and Brazilian Jiu-Jitsu. She holds multiple yoga certifications and is trained in trauma-informed yoga and breathwork for trauma release. She is also trained in plant-based nutrition from Cornell's T. Collin Campbell Center for Nutrition Studies.
Liz has appeared on the covers of international magazines including Yoga Journal, Om Yoga Magazine, Yoga Life Magazine, and Yoga & Wellness Magazine, and leads transformative teacher trainings, workshops, and retreats around the world.
She lives in Los Angeles, California, with her partner, Adam, their son, Skye, and her two rescue dogs, Nalu and Faith.
Praise For…
---
"[Liz Arch] brings a willingness to share her own vulnerability and to explore what it really means to use lifestyle practices to find healing and to thrive in daily life…However you may identify with the challenges in your personal path, The Courage to Rise is a worthy guide."
— LA YOGA

"So badass!... this book will change your life, if you let it! This guidebook offers a truly comprehensive plan for transformation of the body, the brain and the gut, and I'd recommend it highly…Thank you, Liz, for your honesty and bravery in this book— it is truly powerful!"
— ALIVE IN THE FIRE YOGA BLOG

"This book is beautiful, vulnerable, universal, useful, and timely…It's not just some woo woo yoga book you'll buy and never read. There are practical tools in these pages that you can begin applying immediately to your life. It's beautiful AND practical."
— Jen Pastiloff, author of On Being Human

"I have been waiting all of my life to have The Courage to Rise in my hands...It's a masterpiece and I have been using it every day. This book has helped me kick-start a new commitment to self-care with inspiration I have never felt before."
— Robert Sturman, acclaimed photographer and mixed media visual artist