Am I Dying?!: A Complete Guide to Your Symptoms--and What to Do Next (Hardcover)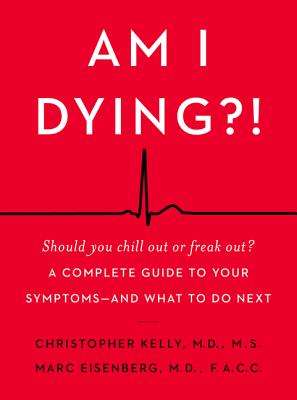 List Price: $25.99
Our Price: $19.49
(Save: $6.50 25%)
Usually Ships in 1-5 Days
Description
---
Featured on CBS This Morning, Men's Health, The Washington Post, Buzzfeed, and The Dr. Oz Show
Two top doctors present a comprehensive, light-hearted guide for the hypochondriac in all of us.
Christopher Kelly, MD, and Marc Eisenberg, MD, FACC, are both highly accomplished physicians and health experts from UNC Health and Columbia University Medical Center. In Am I Dying?!, Dr. Kelly and Dr. Eisenberg walk you through common symptoms and medical myths to provide a helpful, conversational guide on what to do when you experience symptoms – offering advice on whether to chill out, make a doctor's appointment, or go to the hospital.
Most new symptoms turn out to be minor. Most likely, a stuffy nose isn't a sign of cancer. But sometimes a headache isn't just a temporary nuisance and could be a sign of a serious condition. The internet can offer a wealth of data, but it can also be a source of harmful misinformation. So if you have a new symptom, how worried should you be?
This down-to-earth, humorous symptom guide covers over forty different symptoms, organized into eight body areas – including head/neck, chest/back, belly, skin, and more. Some examples include:
·         Belly: When is bloating a sign of a serious problem? Why do some people feel nauseated all the time?
·         Lady Parts:  How often do you really need a mammogram? When is a lump likely to be serious?
·         Bathroom Trouble: Why do some people pee so often (and can a bladder explode from holding it)? 
Packed with practical information and organized in a fun, easy-to-access format, Am I Dying?! is a perfect gift, medical resource, and must-have addition to your home library.
About the Author
---
CHRISTOPHER KELLY, M.D., M.S., is a senior clinical fellow at Columbia University Irving Medical Center. He served as intern, resident, and chief resident at Columbia University Irving Medical Center, where he is currently completing his cardiology fellowship. He lives in New York City.
Marc Eisenberg, M.D., F.A.C.C., is an associate professor of medicine at the Columbia University Irving Medical Center and an attending physician at Columbia University Irving Medical Center/New York-Presbyterian Hospital. A fellow of the American College of Cardiology, he lives and works as a clinical cardiologist in New York City.
Praise For…
---
"[A] lively, reader-friendly, and useful guide. . . . [with] clear instructions and reassuring, amicable tone."  
— Publishers Weekly

"In this easy-to-understand guide, two Columbia University cardiologists double as medical experts and comedians…Expect solid information…presented in a lively, entertaining way."
— Booklist

"There's this little thing called the internet that can be both a hypochondriac's best friend and worst enemy. Now, cardiologists Christopher Kelly and Marc Eisenberg are offering an alternative. Their book, Am I Dying?!, is a guide to different symptoms, complete with tips."
— Bustle (6 Best Nonfiction Books Coming Out in December 2018)

"[Am I Dying] reviews dozens of symptoms and offers advice on when to chill out, make a doctor's appointment or go to the hospital. Aka: It's ideal for hypochondriacs."
— PureWow (8 Books We Can't Wait to Read in December)

"For the hypochondriac in everyone, comes this indispensable guide from two Columbia University cardiologists."
— Furthermore from Equinox (5 Books High Performers Should Read This Month)

"Affable, authoritative authors present a readable, researched text."
— Library Journal

"Whether it's a mark on your skin or a weird feeling in your chest, one of the most common things people want to know about their health problem is 'Am I dying?'"
— Men's Health

"A troubleshooting guide to your health so you can stop freaking out every time your eyelid starts twitching."
— Buzzfeed (29 Things That Will Make 2019 Less of a Pain)

"Tempted to Google those symptoms? Let these Columbia University cardiologists soothe--and educate--your inner hypochondriac instead."
— People Health Issue