Fireworks Over Toccoa: A Novel (Paperback)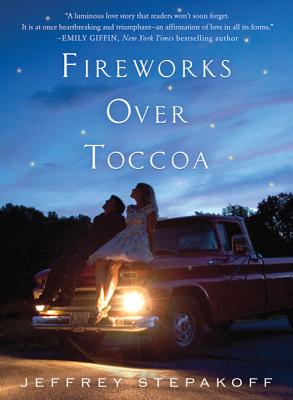 List Price: $18.99
Our Price: $14.24
(Save: $4.75 25%)
Usually Ships in 1-5 Days
April 2010 Indie Next List
---
"In each other, Lily and Jack find comfort, passion, and acceptance for who they really are, rather than what's expected of them. But have they found each other too late? This carefully crafted novel explores what one must embrace--or sacrifice--for love. The characters and their struggles touched my heart, and the setting in post-WWII Georgia is charming. I could smell the pecan pies!"
— Jennifer Sorensen, Literary Life Bookstore & More, Inc., Grand Rapids, MI
Description
---
Every so often that story comes along that reminds us of what it's like to experience love for the first time -- against the odds, when you least expect it, and with such passion that it completely changes you forever.

An unexpected discovery takes eighty-four-year-old Lily Davis Woodward to 1945, and the five days that forever changed her life. Married for only a week before her husband was sent to fight in WWII, Lily is anxious for his return, and the chance to begin their life together. In honor of the soldiers' homecoming, the small Georgia town of Toccoa plans a big celebration. And Jake Russo, a handsome Italian immigrant, also back from war, is responsible for the elaborate fireworks display the town commissioned. But after a chance encounter in a star-lit field, he steals Lily's heart and soul--and fulfills her in ways her socially-minded, upper-class family cannot. Now, torn by duty to society and her husband--and the poor, passionate man who might be her only true love--Lily must choose between a commitment she's already made and a love she's never known before.

Fireworks Over Toccoa takes us to a moment in time that will resonate with readers long after the book's unforgettable conclusion. A devastating and poignant story, this debut novel will resonate with anyone who believes in love.
About the Author
---
JEFFREY STEPAKOFF has written for more than a dozen different television series, including the Emmy-winning The Wonder Years, Sisters, and Dawson's Creek, for which he was co-executive producer.  Author of the acclaimed novel, Fireworks Over Toccoa, he has also developed and written plays, TV pilots and major motion pictures.  Stepakoff holds a BA in journalism for UNC-Chapel Hill and an MFA in playwriting from Carnegie Mellon.  He lives in Georgia with his wife and three young children.  His fiction is published in six languages.
Praise For…
---
"An impressive debut." —The Atlanta Journal-Constitution

"A super emotionally charged love story." —RT Book Reviews

"Read it in the tub." —Redbook

"A luminous love story that readers won't soon forget, Fireworks Over Toccoa transports you to another time and place. It is at once heartbreaking and triumphant--an affirmation of love in all its forms." —NYTimes bestselling author, Emily Giffin

"Fireworks Over Toccoa pinches the heart, telling a poignant tale of love and loss, of making choices and letting go. Lily and Jake's passion shimmers from the pages, enveloping the reader in their private kudzu-covered world. With carefully-crafted characters, a lush and very real setting, this is a not-to-be missed book. Move over Nicholas Sparks!" —Karen White, award-winning author of The House on Tradd Street

"Fireworks Over Toccoa literally explodes with life. Its insights about place and love versus duty are as sharp as an eagle's eye. I absolutely loved every character and hated for their story to end. Kaboom! A brilliant first effort from Jeffrey Stepakoff! Congratulations!" —Dorothea Benton Frank, NY Times bestselling author of Return to Sullivans Island

"Fireworks Over Toccoa is the poignant recollection of a young woman's coming of age and finding love, set against the vivid tableau of small town America during the Second World War, Stepakoff skillfully crafts a remarkable tale of fate and chance, choice and consequences, rewarding readers with a mesmerizing experience." —Pam Jenoff, International bestselling author of The Kommandant's Girl and Almost Home

"Fireworks Over Toccoa is a terrific story--moving, whimsical and original, a real page-turner destined for the big screen." —Joanne Harris, International Bestselling author of Chocolat

"An unexpected love affair of Lily Davis, a WW II bride, is brilliantly portrayed by Jeffrey Stepakoff. Filled with suspense and surprise, I couldn't put it down. As dazzling as the fireworks which brought this war-time couple together, their passionate love affair is spellbinding. I was mesmerized to the last page!" —Marjorie Hart, National Bestselling author of Summer at Tiffany