Trilogía cincuenta sombras: Cincuenta sombra de grey; Cincuenta sombras mas oscuras Cincuenta sombras liberadas 3- volume boxed set (Boxed Set)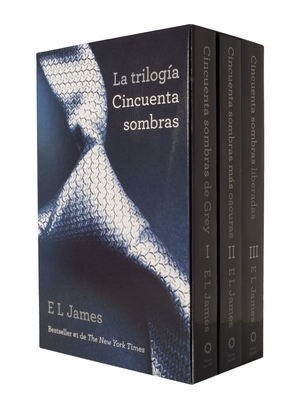 List Price: $47.85
Our Price: $35.89
(Save: $11.96 25%)
Description
---
Edición estuche con los tres volúmenes de «Cincuenta sombras», la trilogía totalmente adictiva que te obsesionará, te poseerá y quedará para siempre en tu memoria.
Descubre el fenómeno en el que se basaron las películas tan exitosas.

Cincuenta sombras de Grey (Cincuenta sombras 1) Cuando la estudiante de literatura Anastasia Steele recibe el encargo de entrevistar al exitoso y joven empresario Christian Grey, queda impresionada al encontrarse ante un hombre atractivo, seductor y también muy intimidante. La inexperta e inocente Ana intenta olvidarle, pero pronto comprende cuánto le desea.

Grey está atormentado por sus propios demonios y le consume la necesidad de controlarlo todo, pero a su vez se ve incapaz de resistirse a la serena belleza de Ana, a su inteligencia y a su espíritu independiente. Debe admitir que la desea, pero bajo ciertas condiciones.

Cuando la pareja por fin inicia una apasionada relación, las peculiares prácticas eróticas de Grey desconciertan a Ana, al tiempo que ella descubre los límites de sus propios y más oscuros deseos...

Cincuenta sombras más oscuras (Cincuenta sombras 2) Intimidada por las peculiares prácticas eróticas y los oscuros secretos del atractivo y atormentado empresario Christian Grey, la joven Anastasia Steele decide romper con él.

Pero el deseo por Christian todavía domina cada uno de sus pensamientos, y cuando finalmente él le propone retomar su aventura, Ana no puede resistirse. Sin embargo, al reanudar su tórrida y sensual relación, Ana averiguará aún más del terrible y doloroso pasado del impetuoso y excitante Cincuenta Sombras, como ella le llama.

Mientras Christian lucha contra sus propios demonios, Ana debe enfrentarse a la ira y la envidia de las mujeres que la precedieron y tomar la decisión más importante de su vida.

Cincuenta sombras liberadas (Cincuenta sombras 3) Cuando la inexperta estudiante Anastasia Steele conoció al joven, seductor y exitoso empresario Christian Grey, nació entre ellos una sensual relación que cambió sus vidas para siempre. Sin embargo, desconcertada y llevada al límite por las peculiares prácticas eróticas de Christian, Ana lucha por conseguir un mayor compromiso por parte de él. Y Christian accede con tal de no perderla.

Ahora, Ana y Christian lo tienen todo: amor, pasión y un mundo de infinitas posibilidades por delante. Pero Ana sabe que amar a su Cincuenta Sombras, como ella le llama, no es tarea fácil, y que estar juntos plantea un desafío que ninguno de los dos podía prever. Ana debe aprender a compartir el opulento estilo de vida de Grey sin sacrificar su propia identidad. Y Christian tiene que sobreponerse a su obsesión compulsiva por el control mientras lucha contra los demonios de su atormentado pasado.

Pero cuando parece que la fuerza de su relación puede superar cualquier obstáculo, la fatalidad, el rencor y el destino se conjuran para hacer realidad los peores temores de Ana.

Más de 150 millones de ejemplares vendidos en todo el mundo. 8 millones de lectores en español.

ENGLISH DESCRIPTION

Now available as a three-volume paperback boxed set, E L James's New York Times #1 bestselling trilogy has been hailed by Entertainment Weekly as being "in a class by itself."

Beginning with the GoodReads Choice Award Romance Finalist Fifty Shades of Grey, the Fifty Shades Trilogy will obsess you, possess you, and stay with you forever. This boxed set includes the following novels:

FIFTY SHADES OF GREY: When college student Anastasia Steele goes to interview young entrepreneur Christian Grey, she encounters a man who is beautiful, brilliant, and intimidating.  The unworldly Ana realizes she wants this man, and Grey admits he wants her, too—but on his own terms. When the couple embarks on a daring, passionately physical affair, Ana discovers Christian's secrets and explores her own desires. 

FIFTY SHADES DARKER: Daunted by Christian's dark secrets and singular tastes, Ana has broken off their relationship to start a new career. But desire for Christian still dominates her every waking thought. They rekindle their searing sensual affair, and while Christian wrestles with his inner demons, Ana is forced to make the most important decision of her life. 

FIFTY SHADES FREED: Now, Ana and Christian have it all—love, passion, intimacy, wealth, and a world of possibilities for their future. But Ana knows that loving her Fifty Shades will not be easy, and that being together will pose challenges that neither of them would anticipate. Just when it seems that their strength together will eclipse any obstacle, misfortune, malice, and fate conspire to turn Ana's deepest fears into reality.
This book is intended for mature audiences.
About the Author
---
E L James is a former TV executive, wife, and mother of two, based in the leafy suburbs of West London. Beginning in January 2012 her life took an extraordinary turn with the runaway success of her novels, the Fifty Shades Trilogy. Since early childhood she dreamed of writing stories that readers would fall in love with, and now, thanks to millions of readers around the world, that dream has come true. She is currently at work on her next novel, another adult, provocative romance.