All I Did Was Shoot My Man: A Leonid McGill Mystery (Paperback)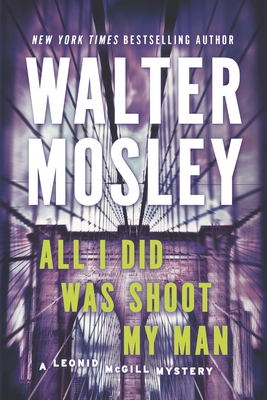 $16.00
Usually Ships in 1-5 Days
Description
---
Zella Grisham never denied shooting her boyfriend. That's not why she did eight years of hard time on a sixteen-year sentence. It's that the shooting inadvertently led to charges of grand theft. Talk about bad luck.

Leonid McGill has reasons to believe she's innocent. But reopening the case is only serving to unsettle McGill's private life even further—and expose a family secret that's like a kick to the gut.

As the case unfolds, as the truth of what happened eight years ago becomes more damning and more complex than anyone dreamed, McGill and Zella realize that everyone is guilty of something, and that sometimes the sins of the past can be too damaging to ever forget. Or ever forgive.
About the Author
---
Walter Mosley is one of America's most celebrated, beloved, and bestselling writers. His books have been translated into at least twenty-one languages, and have won numerous awards. Born in Los Angeles, Mosley lives in New York City.
Praise For…
---
Praise for All I Did Was Shoot My Man

"The best [McGill] book yet."—The Boston Globe

"Like the city he works in, and the Mosley books he inhabits, Leonid McGill is complicated, savvy and full of surprises: a would-be champ who can't win for losing, a fighter who can never be counted out."—The Wall Street Journal

"A big city never looks the same once you've walked its streets with a hard-boiled private eye. preferably someone as perceptive and thoughtful as Leonid McGill…[He] doesn't so much walk the city as case it for danger. Keeping pace with him is as much an education as an adventure."—The New York Times Book Review

"Mosley ratchets up the tension with each new installment in his compelling series."—Star-Ledger

"Walter Mosley has proven over and over again during the past two decades that he is not only one of America's greatest mystery writers, but is one of America's greatest writers period—an American literary treasure. And in All I Did Was Shoot My Man…Mosley has given us one of his best works ever. In Leonid McGill, Mosley has created a character Dostoyevsky would have loved. [He] has written a mystery novel that transcends the genre—a private-eye story for the new, uncertain and constantly dangerous century. All I Did Was Shoot My Man is one of the best books of [the year] and you can't help but root for Leonid McGill. We have much to look forward to with this series. Kudos to Walter Mosley."—BookReporter.com

"The best in the series to date…complex, satisfying."—Publishers Weekly

"Exceptional storytelling."—Library Journal