I'm Just Tryin' To Be Somebody's Wife (Paperback)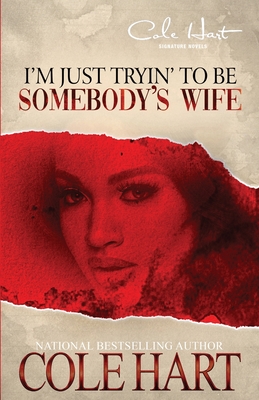 List Price: $14.99
Our Price: $11.24
(Save: $3.75 25%)
Usually Ships in 1-5 Days
Description
---
From the bestselling author of The Sunday School Teacher comes another gripping, heart-wrenching novel full of page-turning romance, unexpected twists, and a quest for a woman to find her soulmate.
Hey frieeend I'm not even sure if I'm saying friend right. Anyway, to all my lady friends around the world, I'm about to vent for a few minutes. This boyfriend BS is for the birds. Honestly, am I the only woman in the world that wants to have a damn good husband? Okay, we can start off going together and stuff. But after that, let's make it happen. I want my wedding to go viral on the Shaderoom, too.
Couple Goals.
Wifey material.
Husband and Wife.
All that, but nah... Most of us got to go through pure hot hell. From getting cheated on, and babies popping up by side chicks, to getting stalked on social media by her and her clown friends. Just all types of drama.
Please, and everyone doesn't have to answer at the same damn time. I just hate to feel like I can't find a husband. Like really, I got caught up with this young dude. You know the type. He had the dreads, the green eyes, and he was skinny too; it was that sexy type of skinny though. But he was shady as hell Always chasing these low-level chicks knowing he got a good woman at home.
"Uggg " is all I could say. Then his so-called side chick had the nerve to come up to my job, trying to fight me about my MF man. Excuse my language, but I need to vent; I need to vent to someone that can relate to me. Now mind you, I work at the most ratchet Wal-Mart in Augusta, Georgia. Not a big job, but I had one, nevertheless.
"Sis, block his number and let lil ugly have him." is what my best friend told me to do. I'm not about to sit up here and lie, ladies, I tried. But he had me mentally messed up; I mean, he knew he was working with something. Anyway, he was a different kind of crazy. Like, dude shot at me in my apartment, and had the nerve to get me evicted
But guess what? I got out of that situation and honey when I tell you I finally met him. All I could say was, "God don't make no mistakes." This brother was like a breath of fresh air. You know that feeling you get. We all get it. When we finally meet him, he makes your entire body tingle. It's like everything that you hoped for, wanted, and dreamed of finally came true.
And then this happens...