The Story of the British Isles in 100 Places (Hardcover)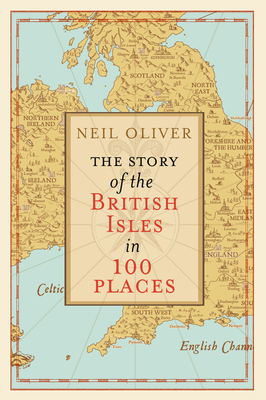 List Price: $37.95
Our Price: $28.46
(Save: $9.49 25%)
Description
---
"Everyone should have two copies - one for the car and one for the house to plan journeys. . . a reminder to think more about the places you pass and less about your route, because every British journey is through rich history." (Edward Stourton)
From much-loved historian Neil Oliver, comes this beautifully written, kaleidoscopic history of a place with a story like no other.
The British Isles, this archipelago of islands, is to Neil Oliver the best place in the world. From north to south, east to west it cradles astonishing beauty. The human story here is a million years old, and counting. But the tolerant, easygoing peace we enjoy has been hard won. We have made and known the best and worst of times. We have been hero and villain and all else in between, and we have learned some lessons.
The Story of the British Isles in 100 Places is Neil's very personal account of what makes these islands so special, told through the places that have witnessed the unfolding of our history. Beginning with footprints made in the sand by humankind's earliest ancestors, he takes us via Romans and Vikings, the flowering of religion, through civil war, industrial revolution and two world wars. From windswept headlands to battlefields, ancient trees to magnificent cathedrals, each of his destinations is a place where, somehow, the spirit of the past seems to linger.
About the Author
---
Neil Oliver was born in Renfrewshire in Scotland. He studied archaeology at the University of Glasgow and worked as an archaeologist before training as a journalist. In 2002 he made his television debut presenting BBC2's Two Men in a Trench in which he and Tony Pollard visited historic British battlefields. Since that time he has been a regular on TV, presenting A History of Scotland, Vikings, and Coast. He was appointed President of the National Trust in Scotland in 2017. He travels all the time, but his home is in Stirling, with his wife, three children and an Irish wolfhound.
Praise For…
---
"A collection of highly crafted historical-archaeological microessays, each centred on a significant place in Britain or Ireland. Few popular history books are as pleasingly tactile as this one..a vivid, pungent history" - James McConnachie - TLS

"This book brilliantly demonstrates Neil's mastery of the broad sweep of British history and landscape." - Dan Snow -

"Everyone should have two copies – one for the car and one for the house to plan journeys. It's a robust rebuke to the satnav – a reminder to think more about the places you pass and less about your route, because every British journey is through rich history." - Edward Stourton -

"In his introduction Neil Oliver calls the British 'a lucky, blessed people', and his book holds up a mirror to that national self-image. Oliver's timeline journey travels from prehistoric footprints off the Norfolk coast to the Ozymandias folly of the Millennium Dome, from a tiny, exquisite jewel crafted for King Alfred the Great to great enigmatic stone forts in the West of Ireland that are being eaten by the sea. Stories we have been telling ourselves for thousands of years are falling on deaf ears or being forgotten, says Oliver. Here in a hundred fascinating doses is the antidote to that millennial malaise." - Christopher Somerville, The Times walking correspondent, author of The January Man -

"Neil Oliver brings his vast experience and expertise to bear on this deeply personal journey into British history - a wonderful read." - Alice Roberts -