Mountain Shadow Memories (Paperback)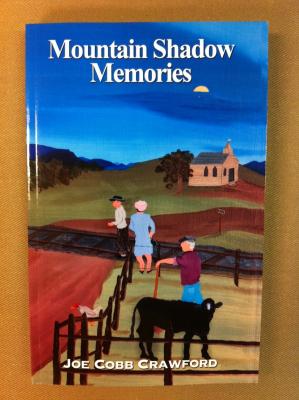 $17.95
Email or call for price.
Description
---
Family Folk Lore and 'Almost True' tales from Southern Appalachia. A collection of stories spanning a century. Mountain legends in the midst are given voice and colorfully brought to life by Joe Cobb Crawford, author of The Poetry Company: Memoirs of a Chicken Catcher and When The Chickens Come Home To Roost. Scenes from the past are captured by north Georgia mountain folk artist, Kenneth Woodall. An unforgettable journey along the rough side of the mountain.
Praise For…
---
"With a mixture of tongue and cheek humor Stephens County author Joe Cobb Crawford recounts his experience as a chicken catcher in his book The Poetry Company. His next book When the Chickens Come Home to Roost unfolds the details of a local murder mystery and the decided attempt of a northern socialite's desire to fit in with the locals. And in his current work Mountain Shadow Memories family folklore takes over as he describes the life and times of his ancestors and the sometimes comical ways they dealt with life and death situations. His colorful writing and what life was like for the poor working class of Georgia is both inspiring and entertaining."



Candice Felice

National Public Radio Affiate WPPR Program Director





"I am all finished! I think this is absolutely OKRA worthy and am going to nomimate it now. Great job!!"

Comment by Mt. Yonah Book Exchange owner, Ellen Schlossberg,after reading the manuscript for Mountain Shadow Memories.