Disgruntled: A Novel (Paperback)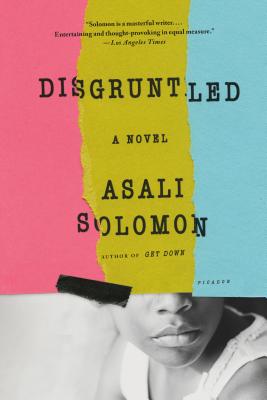 $18.00
Usually Ships in 1-5 Days
Description
---
A Denver Post Best Fiction Book of the Year

An elegant, vibrant, startling coming-of-age novel for anyone who has ever felt the shame of being alive

Kenya Curtis is only eight years old, but she knows that she's different, even if she can't put her finger on how or why. It's not because she's black - most of the other students in the fourth-grade class at her West Philadelphia elementary school are, too. Maybe it's because she celebrates Kwanzaa, or because she's forbidden from reciting the Pledge of Allegiance. Maybe it's because she call her father -a housepainter-slash-philosopher - "Baba" instead of "Daddy," or because her parents' friends gather to pour out libations "from the Creator, for the martyrs" and discuss "the community."

Disgruntled, effortlessly funny and achingly poignant, follows Kenya from West Philadelphia to the suburbs, from public school to private, and from childhood through adolescence, as she grows increasingly disgruntled by her inability to find any place or thing or person that feels like home.

A coming-of-age tale, a portrait of Philadelphia in the late eighties and early nineties, and an examination of the impossible double-binds of race, Disgruntled by Asali Solomon is a novel about the desire to rise above the limitations of the narratives we're given and the painful struggle to craft fresh ones we can call our own.
About the Author
---
Asali Solomon's first novel, Disgruntled, was a best book of the year at the San Francisco Chronicle and Denver Post. Her first book, Get Down, earned a Rona Jaffe Foundation Writers' Award, a National Book Foundation's "5 Under 35" honor, and was a finalist for the Hurston-Wright Legacy Award. Her work has appeared in O Magazine, Vibe, Essence, on NPR, the Paris Review Daily, McSweeney's and several anthologies. Associate Professor, Chair of English, and Director of Creative Writing, Solomon teaches fiction writing and literature of the African Diaspora at Haverford College. Born and raised in Philadelphia, she lives there with her husband and two sons.
Praise For…
---
One of The Denver Post's "Best Fiction Books of 2015"

"Disgruntled is . . . a smart, philosophical, coming-of-age tale featuring a vivid protagonist who battles 'the shame of being alive.' . . . Solomon is a masterful writer, and Disgruntled is entertaining and thought-provoking in equal measure . . . Solomon is a skillful guide who presents beauty and complex ideas in clear, accessible prose, with frequent punches of laugh-out-loud humor." —Steph Cha, Los Angeles Times

"Disgruntled is tender, hilarious, perfectly remembered and rendered, that rare book that is both wildly imaginative and thrillingly true to life. Get Down established Asali Solomon as one of the finest writers of her generation; Disgruntled narrows it down to one of the finest writers alive." —Elizabeth McCracken, author of Thunderstruck & Other Stories

"What's childhood? It's when you don't know things. What things? The things you learn in childhood. This paradox is the heartbeat of Asali Solomon's moving, tough-minded novel, which talks about all of it: family ties, highs and lows, pop culture, work, race, love, and all the other things that make up life." —Ahmir "Questlove" Thompson

"Kenya Curtis' coming-of-age story is fraught and touching and painful and very, very human. But Solomon's exploration of how the political fits into the personal - as well as her insightful handling of black nationalist thought - is what elevates the story to something that is not only compelling as a narrative, but intellectually compelling, too. It's a novel that should not be missed." —Emma Cueto, Bustle

"An air of dissatisfaction pervades this unsentimental portrait of one girl's rocky journey to adulthood, in an impressive debut novel from Solomon . . . The perpetual outsider, Kenya searches for her places in society as she bounces between schools, friend groups, and family members. Her incisive commentary is both arresting and painful, despite her ongoing dissatisfaction. This is a bildingsroman with a kick." —Publishers Weekly

"In Disgruntled Solomon has created a masterful young woman's coming-of-age story as Kenya struggles to create herself in spite of the numerous forces that would constrict her." —Thomas Chatterton Williams, San Francisco Chronicle

"Preternaturally observant and mordantly funny, Kenya is a hypnotic narrator coping valiantly with an increasingly bewildering life . . . navigating the chill of a private, primarily white high school and dreaming of college. Solomon's cultural references resound, her dialogue stings, and the intricate and surprising relationships she choreographs are saturated with racial, sexual, and political quandaries of intimate and epochal repercussions . . . Deft, knowing, bold, and witty." —Donna Seaman, Booklist (starred review)

"A standout." —Rebecca Carroll, The Guardian

"In this witty take on 1980s Philadelphia, a young girl comes of age and learns to navigate love, loss, school and family. Kenya, whom we meet at age 7 and watch graduate from high school into womanhood, is the daughter of Afrocentric parents. Their politics and yearly celebration of Kwanzaa, which entails 'sporting an orange, yellow and brown dashiki and a forehead-straining vertical braided hairstyle,' make Kenya a social pariah even at her all-black school. In Kenya, Solomon has crafted a character of irrepressible verve and voice who carries us joyously through the novel—even after she witnesses her parents' breakup, when her father is imprisoned for injuring her mother with a gun. With the separation, Kenya is propelled from her safe black Philly world into the white world of an elite private school—the very world her father fled, traumatized and bitter. Here, she becomes a master of code-switching to fit in, all while knowing that her classmates will never truly accept her. After a chance meeting with a black boy from her old neighborhood turns into a failed love affair, Kenya seeks comfort in a visit to her father, newly released from prison. The scenes with Kenya's father, who's enjoying a bigamous life with two new wives and two new sets of kids, are razor-sharp on the contradictions of identity—here, for example, we see Kenya's father, a staunch activist for African-American rights unable to make the link to respect women's rights. Kenya has a palpable need for her father to become a solid, guiding force as she steps into womanhood, but he can't do it. And when her stepfather loses all her mother's money, Kenya's future college education doesn't quite go as planned. In this debut novel, Solomon (Get Down, 2008) examines the confusing moments on the verge of adulthood within the ever shifting makeup of family and society. Blackness, feminism and the loss of virginity have never been analyzed by a more astute and witty main character." —Kirkus Reviews

"One of my favorite story collections. Asali Solomon's Get Down is a book that understands the degree to which race and racial identity are so often about performance . . . Race is one thematic link of the collection, and it is given its due complexity. But the thread that ultimately ties these stories together, and these characters to readers, is the raw desire for genuine human connection in the face of everything—race included--that seems determined to sabotage it." —Danielle Evans, NPR on Get Down

"Fresh, intimate portraits of people trying to straddle contradictory worlds. While Asali Solomon writes with uncanny acumen about men, Get Down will resonate with anyone—male or female, black or white, young or old—who has ever felt like an outsider." —Jennifer Egan, author of A Visit from the Goon Squad on Get Down
Coverage from NPR