Setting the Records Straight: How to Craft Homeschool Transcripts and Course Descriptions for College Admission and Scholarships (Paperback)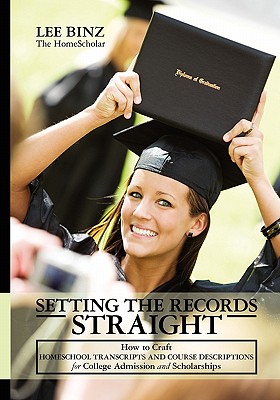 $24.95

Usually Ships in 1-5 Days
Description
---
Create Beautiful, Professional Homeschool Transcripts and Records to Save and Earn BIG Money Give Your Homeschooler the Advantage in the High Stakes College Admission Sweepstakes
Parents who consider homeschooling their children through high school are often consumed by insecurity - "Are we ruining their college chances?" Well, worry no more When it comes to college admissions and scholarships, homeschoolers have what the colleges are looking for Setting the Records Straight will provide you the tools and information you need to understand homeschool record keeping and create homeschool records to perfectly document your amazing homeschool education in a way that will demand attention. You CAN craft high school transcripts and records that gain choice college admission and win BIG scholarships.
Here is what you will learn:
How to build winning homeschool high school transcripts, regardless of your homeschool methods or style.
How to become a champion homeschool records organizer and use them to create a beautiful homeschool portfolio.
How to create credible grades and homeschool credits, even if you don't give tests
How to demonstrate the perfect homeschool record keeping that colleges are looking for.
Even if all you are looking for is a scholarship winning high school transcript examples this is the perfect book for you.
Who is Lee Binz and Why Should You Listen to her?
Lee Binz, The HomeScholar, has helped thousands of parents create outstanding homeschool transcripts and records. Her proven system will teach you how to present your child to colleges in the best possible light. Lee understands what it takes to graduate homeschool students who are fully prepared for college and for life. Lee's practical advice and organized presentations have helped thousands of homeschool parents muster the courage to complete their homeschooling journey. She is both reassuring and empowering, and will give you the knowledge you need to successfully graduate your high school student, and have confidence that they are ready to take on the world.
A firm believer that homeschooling provides the best possible learning environment, and that parents are capable of providing a superior education for their children, Lee's mission is to encourage and equip parents to homeschool through high school.
Homeschool Parents and College Admissions Professionals LOVE this Book
"This is a must-read for those of us planning to homeschool through high school. If you are thinking about high school records, this book will answer all your questions " - Heidi Strawser, The Old Schoolhouse Magazine
"This book was the most VALUABLE tool I've seen on the nuts and bolts of transcripts and course descriptions You literally answered EVERY question that came to mind." - Lori MacMath, Heart of the Matter Magazine
"With humor, understanding, and simple step-by-step instructions, you'll be encouraged and equipped to consolidate your educational experiences with excellence." - Ann Dunagan, Author of The Mission Minded Family
"Your transcripts and records were the best organized and documented I have seen." - Bryan Jones, Associate Admissions Director at Seattle Pacific University
Scroll up and grab a copy today.
About the Author
---
Lee Binz and her husband Matt operate The HomeScholar (http: //www.HomeHighSchoolHelp.com). Their mission is helping parents homeschool high school and many of their resources are free. Lee and Matt homeschooled their two children independently for eight years, from elementary through high school graduation. Both boys earned full-tuition scholarships to their first choice university. Lee is a homeschool consultant working with thousands of parents around the world. Lee has three core beliefs about homeschooling: * Homeschooling provides the best possible learning environment; * Every child deserves a college-prep education whether or not they choose to go to college; * Parents are capable of providing a superior education to their children. Please visit The HomeScholar website and get resources for every stage of homeschooling junior high and high school. * Lee's Total Transcript Solution teaches parents how to create high school transcripts for every homeschooling style. * Her online Gold Care Club is the world's most convenient high school support group. * You can get a daily dose of high school wisdom from her homeschool blog, The HomeScholar Helper. Lee can help you homeschool high school with with confidence and joy!