Single Husbands (Mass Market)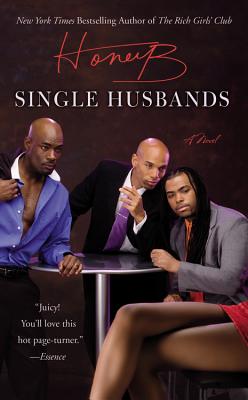 Description
---
A steamy, erotic tale from New York Times bestselling author, Mary B. Morrison, writing under the pseudonym HoneyB, about three men who marry for all the wrong reasons.
Herschel Henderson said, "I do," to gain access to his wife's money, Lexington Lewis vowed for his better and her worse, and Brian Flaw meant until death do we part, yet none of them are dedicated to their wives.
Herschel has a mistress that he sexes more than his wife, Lexington is making love to as many women as he can, and Brian is sexing women of every ethnicity because he's become bored with his wife. The one thing these men do share, is the fact that neither of them will give up the sexual freedom they enjoyed as single men.
About the Author
---
HoneyB is the pseudonym for Mary B. Morrison. Mary B. Morrison, New York Times bestselling author is an author/screenwriter with a multiple book-to-film deal. Mary has seventeen published novels including her newest release, If I Can't Have You.

She writes for Kensington Publishing Corporation as Mary B. Morrison and Grand Central Publishing as HoneyB. In her novels Mary addresses social and sexual issues while empowering her female characters.

Mary lives in Oakland, California with her son, Jesse Byrd, Jr.
Praise For…
---
"The ultimate feast of lust, love, and irony . . . sizzles with tension and twists. The author's mastery of this genre remains electrifying!"—RT Book Reviews on SINGLE HUSBANDS

"A wild ride . . . will have you staying awake all night just to find out what the wives will do. Kudos to HoneyB."—ApoooBooks.com on SINGLE HUSBANDS

"This quick, titillating read will whet the adult appetite."—RT Book Reviews on MARRIED ON MONDAYS

"A wonderfully paced story filled with crazy but intelligent characters, slimy, nasty sex, and loads of plot twists and turn."—Bestselling author Cydney Rax on MARRIED ON MONDAYS

"A steamy, erotic read."—BookLoons.com on MARRIED ON MONDAYS