A Deadly Chapter: A Castle Bookshop Mystery (Hardcover)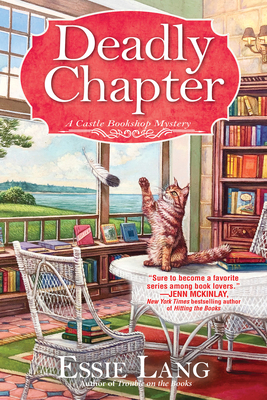 List Price: $26.99
Our Price: $20.24
(Save: $6.75 25%)
Usually Ships in 1-5 Days
Other Books in Series
This is book number 3 in the A Castle Bookshop Mystery series.
Description
---
Thousand Islands bookseller Shelby Cox is caught between a lethal rock and a hardheaded newcomer in Essie Lang's third Castle Bookshop mystery, a must-read for fans of Lorna Barrett and Vicki Delany.

Wake up on a houseboat, moored in scenic Alexandria Bay, New York. Ride the gentle waves to work at quaint Bayside Books, where you spend your days supplying literature and conversation to the charming locals and seasonal tourists. Sounds pleasant, doesn't it? Except bookseller Shelby Cox has already sleuthed two murders from Bayside Books's home base on Blye Island, one of New York State's famed Thousand Islands. And this time, mayhem knocks right on Shelby's waterside door when she finds a body lodged between the side of her houseboat and the dock, his skull shattered.

The victim is no local, but Shelby can't shake the feeling she's seen him before. Twice, in fact--that's how many times he's dropped into Bayside Books asking about an enigmatic woman who lived on Blye Island many years before. The last time? The day before he was found. But the poor man obviously was killed elsewhere, so who brought him down to the bay, and why?

When the victim's daughter hits town demanding answers, Shelby takes the case, despite Police Chief Tekla Stone's usual reservations. But she uncovers more suspects than there are pages in War and Peace, and Shelby can expect no peace--except the peace of the grave--unless she can turn the page on this grisly mystery.
About the Author
---
Essie Lang has been nominated for an Agatha Award for Best First Novel and has also been short-listed for an Arthur Ellis Award from Crime Writers of Canada for Best Short Story under other pennames. She is a former mystery bookstore owner and still loves reading all the mysteries she can get her hands on. She also loves choral singing, which is not always so pleasant for her Siamese cat, Keesha, who must endure hours of practice.
Praise For…
---
Praise for A Deadly Chapter:
"A lively heroine and romantic overtones."
—Kirkus Reviews

"[An] idyllic cozy setting."
—Publishers Weekly

"Readers cannot help but fall in love with the Castle Bookshop Mystery series."
—Cozy Mystery Book Reviews

"One of those wonderfully entertaining reads that you just can't put down."
—Midwest Book Review

"[H]umorous, witty, and entertaining, with a stunning setting, an addictive story, and delightful characters."
—Manhattan Book Review

Praise for Death on the Page:
"Charming characters and [a] beautiful Thousand Islands setting."
—Kirkus Reviews

"Fans of Lorna Barrett's Booktown mysteries or Eva Gates' Lighthouse Library novels will enjoy this sprightly second in a series."
—Booklist

"Death on the Page provides the reader with a satisfactory story."
—New York Journal of Books

"The setting is unique and the author is very descriptive...[A] very good cozy mystery."
—MyShelf.com
 
"Another fun mystery novel featuring Shelby and the bookstore and the castle...Here's to more adventures with the cast of characters in the small town setting."
—Red Carpet Crash
 
"Lang's style of writing opens the reader's imagination and you can see everything so clearly...I highly recommend this book."
—Cozy Mystery Book Reviews

"Another exquisitely crafted murder mystery by an author with a genuine flair for the genre."
—Midwest Book Review

"Charming, funny, and clever with an addicting mystery that pulls you in right from the beginning."
—Manhattan Book Review

Praise for Trouble on the Books:
"Lang's debut features a naturally beautiful area and some promising characters."
—Kirkus Reviews

"Trouble on the Books is a charming cozy mystery populated with delightful people."
—New York Journal of Books

"A fun start to a promising new series...with interesting characters that I hope I get to read about more in the future."
—Red Carpet Crash 

"This series debut is well-crafted and touches all the key points of a good cozy mystery...I look forward to the next installment."
—MyShelf

"An irresistible novel for cozy readers looking for a charming setting, houseboat cat, and romantic flirtations. It's also the promising start of a new mystery series perfect for a vicarious weekend getaway, and its setting of a castle bookstore ensure for further adventures."
—King's River Life   

"This original and thoroughly entertaining read has more plot twists and turns than a Coney Island roller coaster, making it a very highly recommended addition to community library Mystery/Suspense collections."
—Midwest Book Review

"When events turn dangerous in an old smuggling haunt, new bookseller and retired book editor Shelby Cox uses her editorial smarts to save the innocent and capture the guilty."
—Carolyn Hart, New York Times bestselling author of Walking on My Grave

"With a captivating setting and a murder steeped in historical significance, Essie Lang pens a fast-paced murder mystery where nothing is quite as expected. Bookseller amateur sleuth Shelby Cox is delightful. I thoroughly enjoyed this debut mystery in what is sure to become a favorite series among book lovers."
—Jenn McKinlay, New York Times bestselling author of Hitting the Books

"Essie Lang's Trouble on the Books has everything—wonderful characters, a bookshop in a castle, and a mystery that will keep you guessing until the very end. Don't miss Shelby Cox's first adventure; I'm sure you'll want to come back for many more."
—Paige Shelton, New York Times bestselling author of the Scottish Bookshop Mysteries

"Could anything be more perfect than the setting of Esse Lang's new series:  A tiny bookstore in a historic castle in the magical Thousand Islands. Esse Lang's love of the islands and of books comes through in every word.  A likeable heroine, an intriguing mystery, and a full fun cast of characters I can't wait to get to know better make this the perfect cozy read." 
—Vicki Delany, national bestselling author of The Cat of the Baskervilles

"Essie Lang transports us to an island castle and grotto perfect for a great mystery, then, with her wonderful writing and characters, she delivers!"
—Mary Ellen Hughes, national bestselling author of A Fatal Collection

"If you like a good mystery with engaging characters, and revel in books or castles (or both!), then you will enjoy this novel."
—Laura DiSilverio, national bestselling authors of The Readaholics Book Club Mysteries

"A smart whodunit featuring a spunky bookseller, a beautiful castle, a remote island, and plenty of twists and turns to keep you reading until you get to the last page. I'm hooked!"
—Daryl Wood Gerber, Agatha Award winner and national bestselling author of the Cookbook Nook and French Bistro Mysteries 

"A charming setting, an intelligent heroine, books, history, and murder!  There's a lot to love in Essie Lang's first Castle Bookshop Mystery.  Readers are sure to want to come back for more."
—Kylie Logan, bestselling author of Italian Iced

"A castle full of books, a ghost legend, a spunky heroine who lives on a houseboat, a curmudgeonly cat, a setting on a beautiful island, and of course a murder—all these elements combine to make a fun mystery!" 
—Julia Buckley, bestselling author of the Writer's Apprentice Mysteries