Ink And Anguish: A Jay Lynch Anthology (Paperback)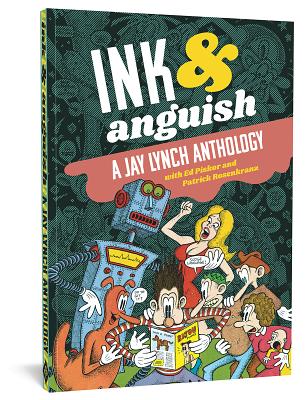 Description
---
The first-ever retrospective of one of the underground comix scene's most beloved figures, which includes an early, uncompleted collaboration with Ed Piskor (X-Men: Grand Design, Hip Hop Family Tree).
Jay Lynch was a counterculture artist whose career as cartoonist, satirist, and archivist spanned over six decades.
Ink & Anguish
is the definitive anthology of Lynch's life as he contributed to the earliest underground comix, designed timeless novelties, and took up painting. This book collects all his signature Nard n' Pat stories; selections from comics like
Bijou Funnies
and
Mineshaft
; a sampling of his art for Bazooka Joe, Wacky Packages, and Garbage Pail Kids; and collaborations with Art Spiegelman, Robert Crumb, and Ed Piskor. Featuring narration by comics historian Patrick Rosenkranz,
Ink & Anguish
is a loving retrospective of an American original.
About the Author
---
Jay Lynch (b. 1945) is a Mad magazine and Topps's Wacky Packages/Garbage Pail Kids contributor and a member of the 1960s-1970s underground comics movement. He recently published a graphic novel for children with Francoise Mouly and Art Speigelman's Toon book line.

Ed Piskor (b. 1982) was born and raised in Pittsburgh, PA. He is a former student of The Kubert School and collaborated with underground comics pioneer Harvey Pekar (American Splendor) before creating the best selling series Hip Hop Family Tree and X-Men: Grand Design (the latter for Marvel Comics).

Patrick Rosenkranz is widely acknowledged as one of the premiere scholars of the underground comix movement. His books include Rebel Visions (the most widely-heralded history of the era) and The Artist Himself: A Rand Holmes Retrospective. He lives in Portland, OR.