Tonight We Die As Men: The untold story of Third Battalion 506 Parachute Infantry Regiment from Tocchoa to D-Day (General Military) (Paperback)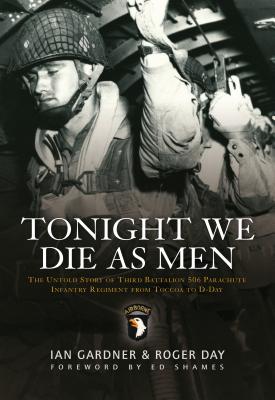 $16.95
Email or call for price.
Description
---
One of Osprey's most popular titles now available in a handsome paperback edition. The exploits of the 3rd Battalion, 506th Parachute Infantry Regiment have long been overshadowed by those of Easy Company, 2nd Battalion. Yet the actions of the 3rd Battalion during the D-Day landings were every bit as incredible. This is the astounding story of how, after suffering many immediate casualties on landing, the surviving paratroopers fought on towards their objective against horrendous odds. Using fascinating first-hand accounts of the soldiers and the French civilians who witnessed the Normandy campaign, and illustrated with black and white photographs and maps throughout, the authors offer a unique and comprehensive account of the experiences of the 3rd Battalion from training through to D-Day and beyond.
About the Author
---
Ian Gardner served for five years in Support Company,10th Battalion the
Parachute Regiment as a medic, before leaving the Territorial Army in 1993 due to a parachuting injury. Ian has always loved military history but it was several years after leaving 10 Para that his interest in WWII US Paratroopers really began. Inspired after a visit to Normandy in 2000 he decided to focus on the 101st Airborne Division and in particular the 3rd Battalion of the 506th Parachute Infantry Regiment. Currently a
self-employed graphic designer, this book is his first historical work co-written with Roger Day. He is married, has two teenage children and lives near Aldershot in Hampshire.

Roger Day's family have lived in and around the village of Ramsbury, Wiltshire, for generations. During his childhood and early adult years he became very interested in the wartime history of the village and the surrounding area. In addition to co-authoring Tonight We Die As Men with Ian Gardner, Roger has previously written Ramsbury at War (1999) and a history of the World War II ammunition depot that was located in Savernake Forest, Wiltshire.
Praise For…
---
"Together, Gardner and Day have reconstructed the battalion's experiences, from training in Toccoa, Georgia, until the end of the Normandy campaign.  The book is based on legions of interviews with veterans, new photographic evidence from the Air Photo Archive at Keele University, many battlefield visits, and a meticulous accounting of the battalion's key actions in Normandy." —John C. McManus, Military History Quarterly

"The two British authors take the reader back to Toccoa, Georgia, and the initial training received (some would say endured) by the men of the 506th PIR, commanded by Col. Robert F. Sink, then on to airborne training at Fort Benning and Camp Mackall. They also flesh out the personalities mentioned in the book so that by the time the regiment is in England and preparing for its baptism of fire in Normandy, the reader has developed a fondness for each trooper... It will be hard to find a better book about a single airborne battalion in World War II." —Mason Webb, World War II History

"The men of the Third Battalion fought the same tough war in Europe as their far famous Band of Brothers comrades of the E Company of the Second Battalion, but their stories were largely untold until Tonight We Die as Men. This is very much unjustified. HBO may never pick up this book as the basis for the next WW2 mini-series, but I recommend any WW2 history enthusiast, particularly those interested in airborne troops or the Normandy invasion, to check out this book. The new material presented in this book is refreshing considering many other works on Normandy are largely regurgitate existing research, while the descriptive narrative makes it, however cliché, a page turner." —Peter Chen, ww2db.com (April 2009)

"British authors Ian Gardner and Roger Day have set out to tell the story of the 3rd Battalion of the famed 101st Airborne Division's 506th Parachute Infantry Regiment. The objective of the battalion was to capture and secure two wooden bridges built by the Germans over the Douve River east of Carentan, as access to what became known as Utah Beach. Despite the successful achievement of this important objective by the 3rd Battalion, accomplished with heavy losses, the authors found that little had been written about the battalion. In fact, they call the 3rd a 'forgotten battalion,' as opposed to the 2nd Battalion of 'Band of Brothers' fame." —James C Roberts, The Washington Times (June 2009)

"Any military library strong in World War II history will find that Tonight We Die As Men fills in many gaps in literature, offering a narrowed focus on the 506th Parachute Infantry's actions and the four companies of the 3rd Battalion whose efforts were beyond the call of duty. Journal entries supplement the historical overview in this historical survey." —California Bookwatch

"...focuses on a single airborne battalion in World War II and provides an in-depth look by two British authors who consider their training, experiences, and personalities. Their entire stories come to life using first-hand accounts of the soldiers and the French civilians who witnessed the Normandy campaign and makes for a strong acquisitions for any collection seeking a personal approach to World War II experioences." —The Midwest Book Review