Don't Tell A Soul: Dyslexic Reader Edition (Paperback)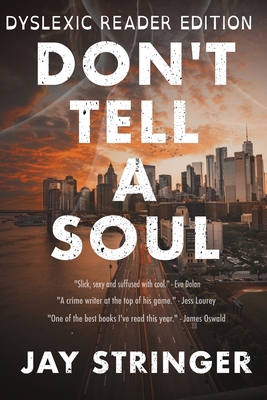 List Price: $13.99
Our Price: $10.49
(Save: $3.50 25%)
Usually Ships in 1-5 Days
Description
---
Did she kill him? Why can't she remember?
Louisa Mantalos doesn't feel capable of murder. But she does have a temper, and a medical condition is changing her memories. Her husband, indie rock star Dave Ash, has been missing for six months. All she wants to do is live her own life, raise her two boys, and figure out where Dave is. But nothing about their lives has ever been private. Everyone in New York assumes she killed him. A popular true crime podcast is covering the case, and asking intrusive questions about Louisa's past.
Running out of options, she turns to Constantin McGarry, an unlicensed private eye from across the river in Queens. Con has his own demons, serving time for armed robbery. But he's out now and trying to put things straight. He helps people, for fifty dollars an hour. But searching for a missing celebrity is the biggest job he's ever taken on. And it doesn't take him long to realise Louisa's story doesn't add up.
But is she lying, or does she really not remember?
Gillian Flynn meets Dennis Lehane in this dark, funny, and sexy mystery thriller from Jay Stringer, award-nominated author of Ways to Die in Glasgow.
Also available in a Dyslexic Reader paperback edition, formatted for reluctant readers (Please make sure you're ordering the correct edition. Dyslexic Reader ISBN 9781916892323)
'Slick, sexy and suffused with cool, a psychological thriller cut up with the keenest of edges.'- Eva Dolan.
'One of the best books I've read this year, a great PI novel.'- James Oswald.
'Jay Stringer is a crime writer at the top of his game, I loved every page of this book.'- Jess Lourey.
'Smart, sharp, and sinister...an edge-of-your-seat thriller that sinks under your skin.' - Hilary Davidson.